A client told me tonight that she has been newly diagnosed with gestational diabetes. NOOOOOOOOO!!!
She has been attending my class for the last few months, although because of her busy schedule hasn't been coming every week.  So, for her, and for all the women of the world who have been diagnosed with gestational diabetes, I've developed a great workout plan that you can do at home, to help you control your diabetes and hopefully avoid this….
As I discussed with my client tonight, exercise and diet are only part of the picture for gestational diabetes.  Often, unfortunately, there is a genetic component that can make it totally unavoidable… but we can still do our best to control it and fight it!
In regards to exercise and gestational diabetes, you must be supervised through this time by your healthcare provider, so please check with your doctor before you begin any new exercise regimen (including the one I've developed below).
First exercise – talk a… walk.
It sounds BORING, but walking after a meal can help control blood sugar levels.   A 10 minute walk after breakfast, lunch and dinner instantly places you at 30 minutes of walking a day… the guidelines recommended by ACOG. If you can't do breakfast, lunch, and dinner, try a 10-15 minute walk after at least one of these meals.  DO IT!
Now for the more dynamic part of my workout plan for those of you with gestational diabetes.  Resistance Exercises!
 But, before you reach to click off the page because you are so exasperated with the thought of having to do weights at a gym, resistance exercise includes using your own body weight (ever increasing in pregnancy!) for resistance. It is easy to do at home! Resistance exercise builds muscle in your body and helps to enhance insulin's ability to be absorbed into muscle in pregnancy, which allows your muscles to gobble up more of that sugar in your blood stream, lowering your blood sugar levels!  Whoop, whoop!
Here are some that I recommend that you can easily do at home
1) Squat.  
A wall squat gives you a little bit of support, and if you have a ball, use it!  When you come into the squat, make sure your legs don't go any further than parallel with the floor, just like the woman in this photo.  Here is the routine I do in my prenatal aerobic exercise class.  3 sets of 8 squats really slowly (count for 4 down, 4 up).  3 sets of 8 faster squats.  Then squat and hold for 8 slow seconds, 4 times.  This will quickly build up the muscles in your lower extremities… and is a great position to prepare you for labor.  Squatting is a great position in labor, as it is gravity assisted, and who doesn't need a little assistance in labor??!!
2) The monster walk.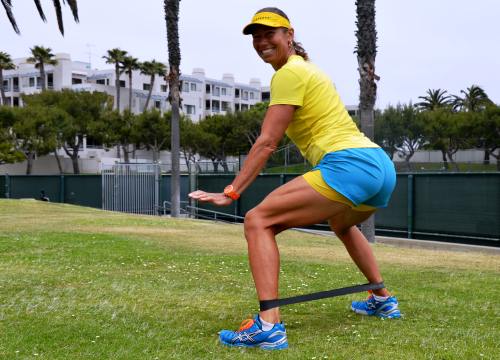 (I so wish this photo was of me… this woman kicks butt!  Oh, and so will you, if you do this exercise!)  This one is a great one to strengthen your hips and gluteals, some of the biggest muscles in your body.  Get them stronger, and your insulin resistance will be challenged!  Squat down, keep down, and walk from one end of a room to the other.  Just like in this picture, add a band for increased resistance, which will make your muscles even stronger.  Go to fatigue (until you just can't do anymore!)
3) Calf raises.  Got a step?? Then you've got a way to exercise those calf muscles eccentrically, which means making those suckers REALLY STRONG! Now, before you get going with these, please be warned that these can really hurt!  Trust me, I tried.  Having a slightly sore calf muscle, I saught out a running physical therapy expert and he suggested I start doing eccentric calf exercises, single leg, 2 sets of 25, twice a day.  That is 100 per calf a day, or 200 total.  So, being the willing participant, I was diligent, and I'm not kidding, the next day, I could barely walk.  Please, ease into them!
An eccentric calf exercise is lowering your calves below the step.  That's all it means.  Also,  perform these with straight legs and then with bent legs. Doing the heel lowering with a straight leg exercises the big, top muscle, known as the gastrocnemius, and the exercise with the bent leg exercises the deeper muscle, the soleus.
Here are Angie's progressions:
start with both legs, one set of 25 a day… if you are not too sore the next day
do both legs at the same time, 1 set of 25, twice a day… if you are not too sore the next day
progress to both legs, 2 sets of 25, twice a day (so now you are at 100 a day).
Once you can complete that progression without too much soreness in your calves, progress to single leg eccentric, which means goes up with both feet on the ground, and lowering your foot below the step with just one leg.
start with single leg, one set of 25 a day… if you are not too sore the next day 
progress to one set of 25 a day, twice a day… if you are not too sore the next day
progress to two sets of 25 a day, twice a day
And you will have CALVES OF STEEL!  Do it.  Until I make my own video of this, which I will, here is an example of this exercise with single leg.  Do with knee straight, and bent.
4) Push-ups.

 If you can do them like this, then you are awesome.
If you can't do them like that, then the girly push-ups are good too.
And if those are too hard, then wall push-ups are a great place to start.
Wherever you are at, do 3 sets of 8.  If it hurts your wrists, stop.  
Do these exercises, and you'll build muscle and help yourself with the fight in controlling gestational diabetes.